Prices are approximate.
Yukon Expedition & White Pass Scenic Railway (8 hours) $169
A fetching combination to Experience the Yukon and White Pass Scenic Railway, this tour allows you to experience the beauty of the legendary White Pass Trail of '98 from different perspectives. Your adventure begins aboard a deluxe motorcoach that takes you along the Trail of '98 to the White Pass summit and beyond to Canada's Yukon. After cresting the White Pass summit, travel through Tormented Valley and visit the village of Carcross near Lake Bennett. Enjoy a tasty barbecued lunch at Caribou Crossing Trading Post.
Visit the Wildlife Gallery and see interesting exhibits of wildlife native to the region before departing for a ride aboard the historic White Pass & Yukon Route railroad back to Skagway. SPECIAL NOTES: Since this tour enters Canada, U.S. and Canadian citizens must carry a passport or birth certificate with photo ID. Guests of other nationalities must bring their passport. Vegetarian lunch available. Please notify Tour Office onboard at least 24 hours prior to tour.
White Pass Scenic Railway (8 hours) $97
Travel 65 miles by deluxe motorcoach into Canada's Yukon. After passing through Skagway, begin your climb along the White Pass Trail of '98. Photo stops allow you to fully enjoy the surrounding mountains, waterfalls and glaciers.
Klondike Gold Dredge Tour (1.5 hours) $34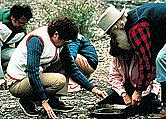 Once over the White Pass summit, the lush growth of the coast gives way to Canada's rugged wilderness. Travel through the glaciated area known as Tormented Valley and along the string of lakes that make up the headwaters of the Yukon River. Explore the Native village of Carcross, idyllically situated beside Lake Bennett and once known as Caribou Crossing.
Yukon Jeep Adventure (5.5 hours) $129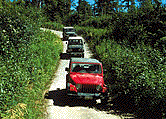 Your small group of explorers retraces the historic Trail of '98 from Skagway to Canada's Yukon as you steer a four-wheel drive Jeep Wrangler. An interactive radio allows everyone to listen in as guides regale you with tales of the gold rush era. Head off the beaten path for amazing vistas accessible only by off-road vehicles. View Pitchfork Falls, Dead Horse Gulch and Tormented Valley en route to the historic village of Carcross and its namesake desert, the smallest of its kind in the world.
Each jeep accommodates four; several stops allow guests to switch to the driver's seat. Bring along a camera and some friends for this fun adventure. SPECIAL NOTES: Since this tour enters Canada, U.S. and Canadian citizens must carry a passport or birth certificate with photo ID. Guests of other nationalities must bring their passports. Drivers must be at least 25 years old, show a valid driver's license and sign a liability/insurance waiver.
Horseback Riding Adventure (3.5 hours) $139
Visit the former site of a gold rush boom town as you explore one of Alaska's most breathtaking valleys on horseback. Your journey begins with a van ride through Skagway to the back country wilderness of Klondike Gold Rush National Historic Park. Deep in the heart of the Dyea Valley, mount a gentle horse and explore the original townsite of Dyea at a leisurely pace suited to riders of all abilities.
Your guides spin tales of the area's gold rush history along the way. After your ride, visit with your guides and enjoy a snack of fresh Alaska smoked salmon pâté. SPECIAL NOTES: Participants should be able to mount a horse and maintain balance in the saddle. Participants must be at least 4'10" and weigh less than 250 lbs.
Tea at Jewell Gardens (8 hours) $45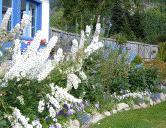 Discover the "Garden City of Alaska" as you explore historic Skagway and relax with a cup of tea and homemade treats at the charming Jewell Gardens. Tour the streets of downtown Skagway as your driver-guide entertains you with amusing tales of the famous and foolhardy who passed this way in search of riches. Cross the Skagway River and arrive at the beautiful Jewell Gardens, original site of the Clark family farm in 1898. Enjoy tea service on the open sun porch with a view of brilliantly colored northern flowers. Savor tea, coffee and mint lemonade along with inventive culinary treats such as nasturtium and herbed cream cheese tea sandwiches, calendula quiche, carrot cake and ruby begonia bars.
The fresh, organic ingredients for your meal are picked daily from the edible landscape surrounding you. Next, your guide shows off the immaculately groomed herb, flower and vegetable gardens and the elaborate miniature railroad display depicting Skagway as it looked in 1898. Marvel at the diverse selection of plants, such as stately blue delphiniums, scarlet begonias, exotic herbs, monster cabbages and giant kohlrabi that thrive in this unique environment.
Eagle Preserve Scenic Float Adventure $175bulletGreen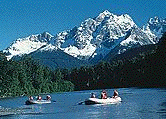 Enjoy a unique rafting adventure (no white water) through the world-famous Chilkat Bald Eagle Preserve. Your journey begins on the waters of Lynn Fjord aboard a fast, comfortable and well-appointed catamaran. Enjoy the spectacular scenery of this daylight cruise along North America's longest and deepest fjord. A brief tour through Haines and historic Fort William H. Seward begins your quest into the heart of the "Valley of the Eagles." The Chilkat Preserve boasts the world's largest gathering of bald eagles, drawn to the river to feed on salmon. It is also home to moose, bears, wolves and a host of other animals.
Whale Watching & Wildlife Quest (8 hours) $109

This exciting cruise features a guaranteed whale sighting! Following a short motorcoach ride to scenic Auke Bay, board a water jet-powered catamaran specially designed for wildlife viewing. The warm, comfortable and spacious main cabin features large viewing windows. Admire the majestic backdrop of snow-capped peaks and glaciers as your experienced captain guides you through the island-studded waters of Stephens Passage. Your onboard naturalist explains the habits and habitat of the wildlife you may encounter, which include humpback and killer whales, Steller sea lions, harbor seals, Dall's porpoises, bald eagles, Sitka blacktail deer and, occaisionally, bears.
We are so confident of the abundance of wildlife in this area that we guarantee you will see a whale. If not, receive a $100 cash refund ($50 refund per child) as you disembark. Don't anticipate a refund: whales have been sighted on every tour for the past eight years! To fully enjoy the sights and sounds of a close encounter with wildlife, be sure to bring a warm, rainproof jacket to wear on the topside observation deck and don't forget your camera! Complimentary snacks and beverages are offered during your cruise.
Glacier & Dog Sled Adventure Via Helicopter (3.5 hours) $449
Enjoy a thrilling combination of helicopter flightseeing and dog sledding on a spectacular glacier. Your expert pilot flies over Juneau's massive ice field to view four different types of glaciers: cascading, advancing, retreating and floating.
Land on Norris Glacier, where you meet top Iditarod racer Linwood Fiedler and his dog-mushing team. Glide across the snowy terrain on a captivating dog sled ride. Resume your flight, watching for wildlife as you sail over elegant ribbons of ice.
Knudson Cove Salmon Fishing (5.5 hours) $167
Come fish from some of the best fishing grounds in southeast Alaska. Enjoy a 30-minute narrated coach ride along the coastline of the Tongass Nbullets. Get a glimpse into the history of Ketchikan and lifestyle of her residents. At the scenic harbor in Knudson Cove, meet your experienced captain, board his modern fishing boat and head to the nearby salmon fishing grounds. Eagles, whales, seals, sea lions and other wildlife may be on the agenda as well! You're off for a fine adventure as you fish the sheltered waters of Clover Passage from the comfort of a 4 to 6 passenger Coast Guard certified vessel.
Rain gear will be provided but you should wear deck or rubber-soled shoes and bring appropriate outdoor clothing. Your catch can be processed and shipped home for an additional charge (credit card required.) SPECIAL NOTES: Fishing licenses are required and can be purchased on your boat for $10.00 per person. Fishing for king salmon requires an additional $10.00 retention tag (cash only.) Children under 16 do not need a license.
Adventure Kart Expedition (4 hours) $185
Experience the wonders of the Alaska wilderness from the driver's seat of a specially designed, off-road adventure go-kart. Learn about the history, culture and economy of Ketchikan as you are transported to a privately owned rain forest preserve. At the expedition's assembly area, you receive a brief safety orientation in preparation for the exciting, one-hour guided trek. Then, your caravan of go-karts sets out to explore the remote, back country road that threads its way along the scenic shoreline of George Inlet. Glacier-carved Mahoney Basin, surrounded by sheer cliffs, dense forests and waterfalls is your destination. Spend time investigating the grandeur and mystery of this rarely visited gem, known for its unique and awe-inspiring beauty.
Participate in a guided hike to view Mahoney Falls or just relax and soak in your surroundings. Enjoy a healthy snack and beverage, then drivers and passengers are given the chance to switch positions for the return trip. Next, board a custom-designed jet boat for a continuation of your adventure. Rich in history and wildlife, a one-hour cruise through George Inlet and back to town perfectly completes this one-of-a-kind excursion. SPECIAL NOTES: Drivers must show a valid driver's license. Participants must be at least 50" in height and weigh over 40 lbs. to ensure maximum benefit from safety harness.
Totem & Town Tour (2.5 hours) $36
See all the sights of Ketchikan, including enchanting Totem Bight State Park. Board your motor coach for a 25-mile drive in and around Ketchikan. See Alaska's busiest waterfront, bustling with floatplanes and boats. Tour the old city and drive by infamous Creek Street, Ketchikan's former red-light district. Travel along scenic North Tongass Highway, passing salmon canneries and a pulp mill that was once the largest of its kind in the world.
Then your guide introduces you to Totem Bight State Park, where an awesome sight awaits. After walking along a winding trail through a forest of mighty hemlock, you come to an old Indian campsite filled with colorful totem poles each representing a fascinating tale. Learn about Native Alaskan culture at the park's Ceremonial House. Enjoy a salmon snack at the Alaska Totem Company before your return to town.
Ketchikan By Horse-Drawn Trolley $25
A horse-drawn trolley is the perfect vehicle for touring Ketchikan's most historic areas. Your guide points out historic buildings and places of interest on your informative ride. Drive past the bustling waterfront and pass picturesque Whale Park with its pioneer clock and totem pole. See the wooden staircases that served as streets in old-time Ketchikan.
Follow Ketchikan Creek, a rich salmon habitat, to the fish ladder and spawning grounds. Learn the history of Dolly's House, a renowned house of ill-repute. The leisurely pace of the horses and the genial company of your driver and his Alaska husky companion provide a relaxing journey.
Lighthouse & Eagles Excursion (3 hours) $85
Board a comfortable vessel for a voyage of discovery featuring Ketchikan's maritime history, Native culture and scenic beauty. Enjoy a short, narrated drive through Ketchikan en route to a private dock. Relax in the heated main cabin or enjoy the open-air observation deck as you cruise past Alaska's oldest working cannery and an authentic floating lumberjack camp. View the totem poles and clan house at Totem Bight State Park as you learn about the rich Tlingit culture.
See Ketchikan's colorful cabins, float houses, and unique homes, many built on their own islands. Circumnavigate historic Guard Island Lighthouse, established in 1901. Photo opportunities abound on the trip and you may spot whales, sea lions, seals and eagles. Hot beverages, salmon spread, crackers, cheese, fresh fruit and cookies are served during your cruise.